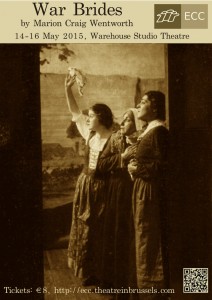 War Brides by Marion Craig Wentworth (14-16 May 2015)
Warehouse Studio Theatre
Europe is at war. The young women of a small rural village in an unnamed country are being strongly encouraged to become "war brides" – to marry the young men going into battle and produce the next generation of soldiers for the Empire. But what happens when some of them refuse?
Marion Craig Wentworth's play was a runaway success in America in 1915 and made into a 1916 film before being banned when the USA joined World War I.
The play is directed by Conrad Toft and stars Peyton Cimino, Izzy Poston, Joanna Patrick, Richard Daly, Amanda E. Ekdahl, Gareth Lewis & Andy Blumenthal.
Tickets (€8) can be booked at http://thelittleboxoffice.com/ecc for performances at 8pm on 14-16 May 2015.
ECC Brussels will also be taking this one-act play to the FEATS (Festival of European Anglophone Theatrical Society) in Hamburg on 23 May 2015.
Monthly Play Readings – All Welcome!
Each month the ECC hosts a Play Reading.  No experience is required, and new participants are always made very welcome.
This month we will be reading WHEN WE ARE MARRIED by J B Priestly on Wednesday 8 April 7.45pm for 8pm – Chez Mary.  We do not yet have anyone to assign parts, so if you would be willing to do this please ring Mary, she would be delighted to hear from you: 02 345 85 83
Other than that the usual rules apply!  Please register via this Doodle link http://doodle.com/ie4r8se3c54g72xa, or ring Mary if you really don't like Doodle.  7.45pm Chez Barbara for an 8pm start, and interval nibbles or drinks always welcome!  More importantly – just come along and enjoy yourself!
To know more about the forthcoming Play Reading, go to the Play Reading tab or CLICK HERE